---
January 2016
Innovative Sales, Marketing, and Recruiting Ideas for 2016
Ready to make 2016 YOUR BEST YEAR EVER?

At Haley Marketing, we are on a mission. We're out to make 2016 your best ever!

To kick things off, we asked our entire team to share their best sales, social media, recruiting and other marketing ideas--and we told them not to hold anything back.
Hi Reader,
It's our (almost) birthday!

This August, Haley Marketing turns 20! And to celebrate, we're going to be doing big things all year long. This month's Idea Club is just the start, and I hope our 30 Ideas for 2016 help you get your year off to the right start!

If one of your goals for this year is to improve your marketing, check out our Marketing Bundles Promotion. As part of our 20th birthday celebration, we are offering some amazing deals! Whether you need to drive sales leads, upgrade your website, attract more candidates, or nurture relationships with prospects and clients, we've got a marketing program for you! Full details are at www.haleymarketing.com/2016deals.

Best regards,
David Searns | CEO, Haley Marketing | 1-888-696-2900
Show 'n Tell
---
Check Out Our Latest Staffing Websites
Want to see our new Starter Sites? Contact us at 1.888.696.2900 today.
Social Media Buzz
---
Top Blog Posts for January 2016
Our Next Webinar
---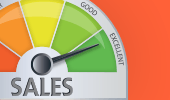 For Managers: 10 Tactical Tips To Boost Sales Performance
Thursday, February 11 at 2 p.m. EST
Events & News
---
On Demand Webinar: 25 Innovative Sales, Marketing, and Recruiting Ideas for 2016
Stay Up-To-Date With Haley Marketing